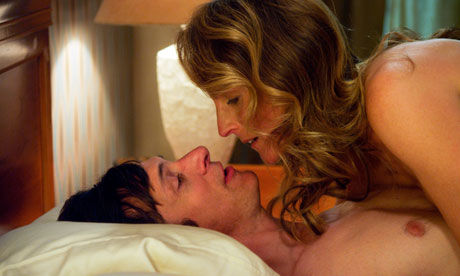 Yesterday I viewed
The Sessions
, directed by Ben Lewin and strarring John Hawkes, Helen Hunt & William H. Macy.
The movie is about a man Mark O'Brien (John Hawkes) who is forced to live in a iron lung because of complications with polo, this state of body means he never had the chance to have sex, something he wishes for. After an unsuccessful attempt to propose to one of his caretakers he gets the tips to seek the sex surrogate Cheryl Cohen-Greene (Helen Hunt), and then we get to see his journey to lose his virginity. Except his limitation because of his body, he also limit his thoughts because of his catholic belief, believing that he is not worthy of having sex. His spiritual quest to seeking fulfillment his helped by the priest Father Brendan (William H. Macy)
As one of the breakthrough hits from Sundance it was expected to hit Oscar and critical glory hard, but ended up only being nominated for Best Supporting Actress for Helen Hunt, even though John Hawkes was a regular at several award ceremonies prior to the Oscar. According to me the snub of John Hawkes is a mystery for me. Playing a man limited in many sense, he manage to portray the character believably by peeling of his numerous limitation that complicates the quest to lose his virginity. As Mark, John Hawkes proves once again he is one of the greatest American actors working today. Wowing the audience now three years-a-row with three totally different characters. But what makes this whole movie so believable is the warmth of the rest the ensemble, especially the performances of John Hawkes, Helen Hunt and William H. Macy. The film is a great testament for the human spirit and to be honest, I haven't seen a film with so many likable characters since forever.
B+